Online Sessions
Right here, right now, in the comfort of your own home
You will want to make sure that you have all the following essentials, so that the booking process is made easy.
Credit card
Our booking application, through © Stripe, accepts all major credit cards such as Mastercard, Visa and American Express.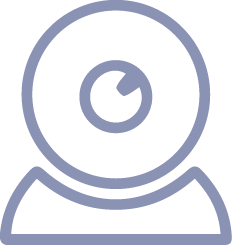 Web camera
To fully benefit from an online session, you will need a web cam. We highly recommend an audio/video conversation so both parties can have a better experience.
Zoom
With easy-to-join video calls, you can meet face to face without the added cost of travel. The easiest and most secure platform is Zoom – that's is why we chose it, we're all about the safety of our clients. Oh, and it's free!
Our specialist will send you a private invitation by email to start your session. Simple Install!
Now that you have taken care of the essentials above, you're all set to book a session. And it's easy and quick. All steps are presented as you'll see them show up.
Specialists
Here is where you'll be asked to pick from our list of specialists. We highly recommend that you consult the specialist page before booking. Note that you must choose a specialist that serves your province of residence.
Date and time
Next you'll have a calendar showing up with all the time slots that your specialists has available. Just pick a date and time that fits your schedule.
Contact information
You'll have to confirm and enter your name & email address to complete the booking
Secure payment
The final step : pay for your session. Not only our website is protected by a secured SSL connection, but our payment processor © Stripe makes it easy, quick, and most importantly, secure, which ensures you a stress-free transaction.
We accept Mastercard, Visa and American Express.
If you already had an online session before, there is no need to go through all the above steps again and no client forms are required.
Log In
Select Log In from the main menu or click here
This will bring you to the LiveSite where you will be able to access your client portal.
Enter your email address in the right column and click LOGIN.
A verification will be sent to your email inbox. This is for security mesures. Just follow the link and you will be redirected to you client portal.